Media
Smithers Silversmithing has created a wide range of hand-made special order pieces and reproductions. These videos and articles document our process, craft and the breadth of history technique used in creating these pieces. Please feel free to contact us about workshops and historical demonstrations.
Here's an article (PDF) from the January 2011 issue of Glamour Italy magazine titled : 31 Modi per Dire 2011, roughly translated, "31 ways to say 2011"

We were pleasantly surprised to receive a request from the editor in Milan for an image of our 7 arm candle chandelier to be included in their article on the latest trends for 2011. Somehow our hand hammered chandelier made in our shop in the woods here in the Berkshire hills seems a bit out of place amongst the Gucci fashions and stars such as Johnny Depp, but we certainly won't object!
Boston, Massachusetts
Silversmithing Demonstration
March 23, 2010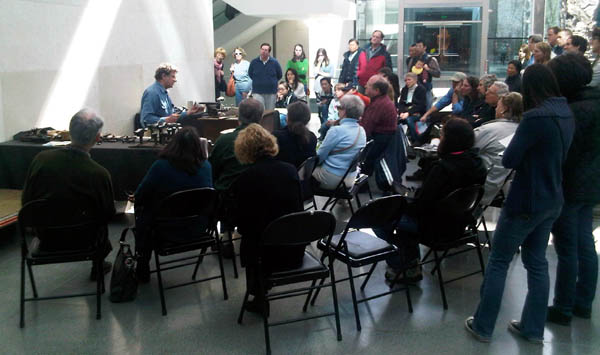 As seen on MFA.org
Produced by the Museum of Fine Arts, Boston
"Painting with a Hammer"
Produced by David Fessenden and Harry Keramidas
Renovation Nation
Episode 126, 2008
---
Home Page Tableware Lighting Upcoming Events Media Presentation Pieces and Custom Commissions Restoration
Contact & Ordering About the Artist Available for Purchase