The Art of Silversmithing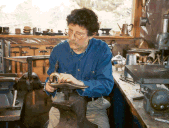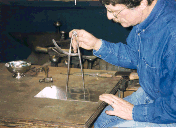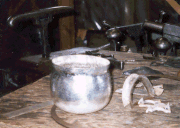 ---

Silversmithing has always been a time intensive art requiring a steady hand and a well trained eye. Though very few smiths work in this tradition today, there appears to be a rekindling of interest in this art which provides us with so many objects of timeless beauty and function. The enduring nature of silver and brass insures that these pieces will be used and enjoyed by many generations to come.

Before beginning, the various patterns that will form the finished piece are determined. Then the different parts are cut from flat sheets of silver or brass with iron shears. The metal must then be annealed, heated to red hot, to make it more pliable.

The next step involves hammering on anvils of different sizes and shapes. It is this process which distinguishes my work from most other tableware and lighting available today which is formed by machines. One hammer blow at a time, various shapes are gradually formed over anvils and iron stakes, usually requiring thousands of hammer blows and several annealings to attain the finished shape. Finials, handles, and feet are formed by casting in sand.

Finished parts are carefully fit together and joined with heat and solder. After careful filing and cleaning, the piece is given its final polish, then signed.
This process requires a good deal of patience and concentration as one carefully works through each step. Even the simplest forms involve many hours of work. The creation of a coffee or tea pot may take one-hundred or more hours depending on the degree of refinement and embellishment. The unique beauty and character of these hand wrought pieces justifies the time and effort invested, whether they are newly made or from another era.
---
Home Page Tableware Lighting Upcoming Events Media Presentation Pieces and Custom Commissions Restoration